Optimal 1100 Tree Spade
Fieldworks Nursery Equipment in Grand Bay, Alabama is the official Optimal Tree Spade dealer for North America.
The Optimal 1100 is one of our most popular models. It is capable of digging up to a 46 inch rootball and down to a 36 inch rootball. This makes the 1100 the perfect choice for 3½ – 4½ inch caliper trees. One of the reasons for the 1100's popularity is its ability to dig a fairly large 46 inch rootball using a smaller power unit.
The Model 1100 will run easily on a 2,500 pound lift skid-steer and can also be mounted on tractors, excavators, wheel loaders, etc. The 1100 comes standard with electric hydraulic controls with individual blade control, universal mounting bracket, and lift pads for digging smaller rootballs.
Optimal 1100 Features:
• Zero grease fittings
• Compact – digs a 4.5 inch tree with a 2500 pound lift, skid steer with no counter weight
• Electric over hydraulic individual blade controls
• Easily adjustable blades
• Dual opening gates
• Lift pads for digging smaller root balls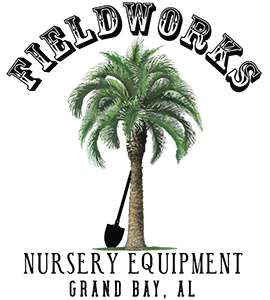 Fieldworks Nursery Equipment
5191 Dawes Road
Grand Bay, AL 35641