Optimal Tree Spade P650
Fieldworks Nursery Equipment in Grand Bay, Alabama is the official Optimal Tree Spade dealer for North America.
The OPTIMAL P650 is available with interchangeable blades and scrapers. The 450 blades dig a 17″ diameter rootball; the 550 blades dig a 21″ diameter rootball; and the 650 blades dig a 25″ diameter rootball. The P-650 digs a more shallow, rounded rootball similar to hand dug material. The unique scoop design allows the Optimal P650 to easily harvest shrubs and other low branched plants. This unit is easily adapted to skid-steer, mini-skid and excavators. It is excellent for high volume production.
Features:
• Interchangeable Blades
• 450 – 17 inch
• 550 – 21 inch
• 650 – 25 inch
• Electric/Hydraulic Controls
• With a height of 26″ and width of 29″, the Optimal P650 is easily the most compact spade in the world
• 2-Blade Scoop design = outstanding harvest speed around 10 seconds per plant
• 2001 Innovation Award from American Nursery & Landscape Association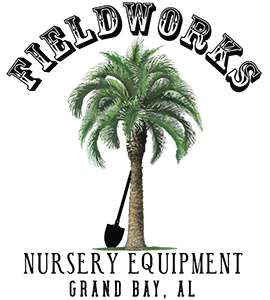 Fieldworks Nursery Equipment
5191 Dawes Road
Grand Bay, AL 35641