Optimal Tree Spade 1800
(Special Order)
The Optimal 1800 is specially designed to transplant larger trees with up to a 71″ diameter rootball. With its four specially designed concave spades, the 1800 ensures a maximum transplant success rate.
It comes standard with telescoping spade cylinders which greatly reduce the working height of the machine. The 1800 is easily adapted to articulating wheel loaders, crawler loaders, truck mounts and other large capacity power units.
Optimal 1800 Features:
• Telescoping spade cylinders equals greatly reduced working height
• More lateral roots equals better survival rate
• Electric over hydraulic individual blade controls
• Plastic bearing surface
• Hydraulic gate lock with safety switch
• Adjustable rootball pads dig from 71-61 inch rootball
• Machine is Special Order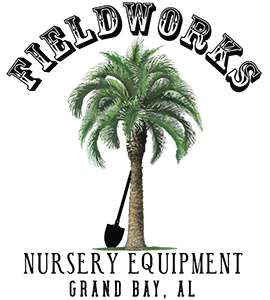 Fieldworks Nursery Equipment
5191 Dawes Road
Grand Bay, AL 35641