Optimal 650 O/S Tree Spade
Fieldworks Nursery Equipment in Grand Bay, Alabama is the official Optimal Tree Spade dealer for North America.
The OPTIMAL 650 o/s has all the great features of it's larger siblings. Many nurseries produce most of their plants for harvest at 1 1/2″-2 1/2″ diameter.
For these nurseries the OPTIMAL 650 o/s offers:
• The ultimate in reliability – Can dig thousands of plants per year.
• Great speed – Up to 500 plants per day.
• Two gates – Dig the right or left row/ hydraulically locking frame.
• Exterior frame – More room for evergreens, shrubs and multi-stems.
• Great OPTIMAL rootball – More roots / less soil, no stripped trees, less freight, hand dug appearance.
• 4 blades not three – Round rootball not triangular, stronger blades / stronger digging / locust redbud no problem.
• Save ground, chemicals, time and money – No need to widely space your plants with the compact OPTIMAL 650 o/s.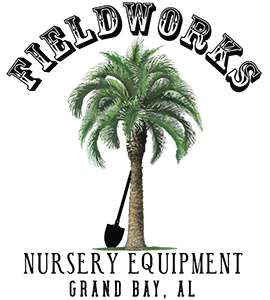 Fieldworks Nursery Equipment
5191 Dawes Road
Grand Bay, AL 35641