The OPTIMAL 30.25 is part of the New OPTIMAL "T" line of tree spades. It is a 30 inch, 25 degree truncated spade. The unit is a 3 blade, outside frame, low profile design. The 30.25 uses the standard 25 truncated basket which is readily available from all basket suppliers. This spade was designed to be a ""workhorse"" and to dig a broad range of rootball sizes.
Optimal 30.25 Features:
• Digs a broad range of rootball sizes (22 – 30 inch).
Note: With the lift pads off, you can dig a 32″ ball.
• Low Profile – Outside frame with wide opening swing arm.
• Easy access for maintenance.
• Excellent visibility for spotting trees.
• Easily adjustable blades.
• Proven German engineering and reliability.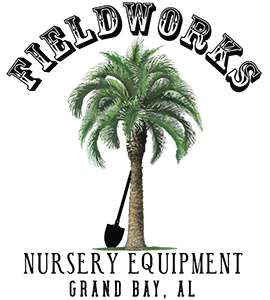 Fieldworks Nursery Equipment
5191 Dawes Road
Grand Bay, AL 35641