Optimal 900 Tree Spade
Fieldworks Nursery Equipment in Grand Bay, Alabama is the official Optimal Tree Spade dealer for North America.
The Optimal 900 is the upgraded version of our old Model 880. It has been in production for over 10 years and is a tried and proven work horse in the 28-36″ rootball range. Because of the compact size, load center, and weight of this machine, it can be run on a much smaller loader. Typically if you are operating one of our competitor's 28-32″ spades, you can run the 900 on that same loader. This is a huge advantage if you need to step up to a 36″ size. Some of the other advantages are no grease fittings and its easily adjustable blades (15 minutes or less).
Optimal 900 Features:
• 4 blades for superior digging in hard soils
• Dual gates – digs to right or left
• Compact size for tight conditions
• Superior speed
• Optimal rootball – more roots/less soil = more trees per load
• Reliability/German engineering and superior customer service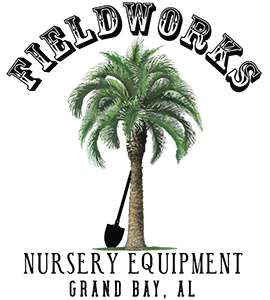 Fieldworks Nursery Equipment
5191 Dawes Road
Grand Bay, AL 35641