The OPTIMAL 36.25 is part of the New OPTIMAL "T" line of tree spades. It is a 36 inch, 25 degree truncated spade. Rootball range is from 26″ to 36″. The spade uses the standard 25 truncated basket which is readily available from all basket suppliers. The 36.25 comes standard with electric hydraulic controls, individual blade control, universal mounting bracket and lift pads for digging smaller rootballs.
Optimal 36.25 Features:
• 4 Blade, inside frame machine for superior digging in hard conditions.
• Dual opening swing arms.
• Easily adjustable blades.
• Proven Reliability.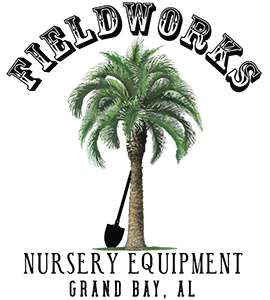 Fieldworks Nursery Equipment
5191 Dawes Road
Grand Bay, AL 35641